Technology and art may seem conflicting initially, but integrating technology into the art room can enhance the artmaking process. Instead of viewing technology as a replacement for traditional methods, use it to supplement and provide new learning opportunities for students. Steve Jobs believed combining technology with the liberal arts and humanities leads to the most meaningful and engaging results. Technology can be incorporated gradually with simple methods such as these eight suggestions for combining technology and art.
Create a Digital Paint Pour Challenge
Paint pouring is a popular technique that can produce unique and interesting results. To enhance the experience, try incorporating digital manipulation. After completing a paint pour, take a photo of the painting and ask students to use digital editing software to create a new image. This can serve as a lesson in creativity as they search for shapes and images to inspire their ideas. Any program that allows for digital drawing and editing can be used.
Create Watercolor and Chalk Backgrounds
When experimenting with new mediums, consider using them to create a background image for digital editing. Watercolor and chalk are great options for creating visually interesting backgrounds that can be used in digital abstract art or as part of a larger digital design.
Animate Existing Artworks
Animation can bring artwork to life. Using basic animation techniques, students can easily create a GIF from a painting or drawing. For guidance, check out Art Ed PRO's pack designed for art teachers.
Demystify Typography Printmaking
Printmaking is a popular activity among students, but the design process can be challenging for beginners. While it's a great way to teach typography, students may struggle with the proper orientation of the text to avoid backward printing. One solution is to use digital design to compose a piece and easily flip images.
Create Custom Stencils
Stencils can be utilized for a range of artistic projects in the art room. However, purchasing stencils can be costly and may not always meet specific design needs. Using digital design software to create stencils can save time and allow for easy replication of design elements by students. These digital designs can be converted into stencils through self-cutting or with the use of a tool like a Cricut.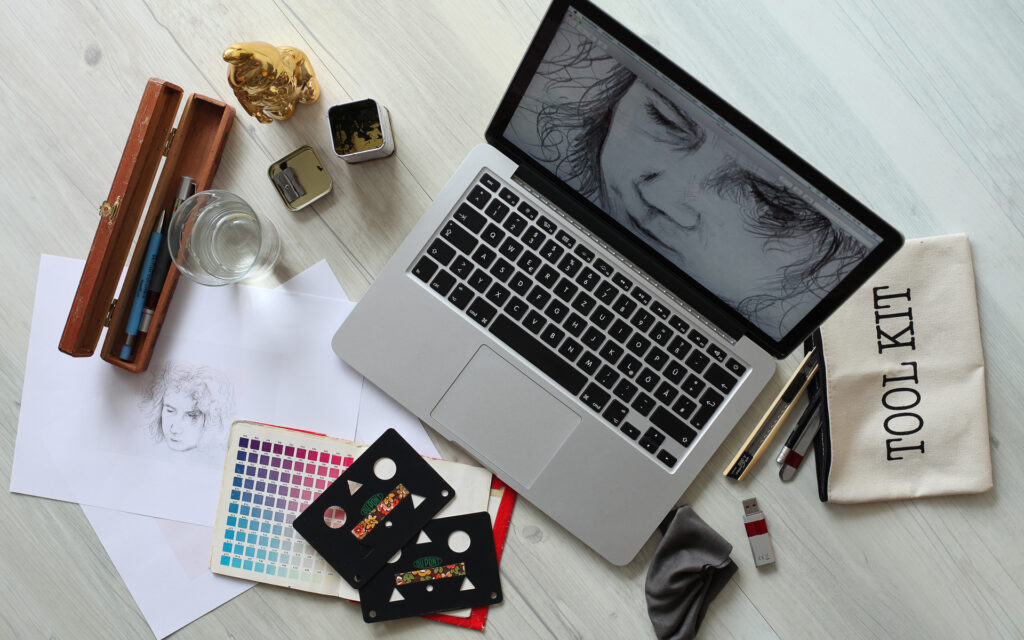 Introduce Drawing Digitally
Digital drawing can be a great starting point for teaching basic drawing techniques to students. It can be especially useful for concepts such as shading, value, and light sources, which can be challenging to grasp using traditional materials. With digital drawing, mistakes can easily be undone, reducing intimidation and allowing for a more efficient sketching process before moving on to traditional techniques.
Explore 3-D Pens and Printing
3-D printing is an exciting way to incorporate STEAM into art education. It enables students to experiment with a sculptural design using cutting-edge technology and traditional art materials. Utilizing 3-D pens and printers, students can take their 2-D designs and bring them to life in 3-D form. One way to integrate 3-D printing into the art classroom is by having students create 3-D printed tools, such as ceramic ribs or stamps, for use with clay. These tools can be made with a 3-D printer or a 3-D pen. A great resource for getting started with 3-D printing in the art classroom is the guide "3-D Printing Basics with Art Ed PRO."
Improves Digital Literacy With Coding
In today's digital world, coding has become a fundamental form of digital literacy and a means of fostering creativity in the digital realm. It can also be integrated into various artmaking activities in the classroom. By using coding tools like Makey Makey, students can enhance traditional artworks by creating an interactive experience for viewers. With this device, students can add sound recordings or artist statements to their artwork, giving a richer and more multidimensional experience to the viewer.
Conclusion
Art and technology are a powerful combination, and when used together, they can achieve great results. Instead of viewing technology as an additional task, consider it as a tool to empower your students. If you're unsure of where to begin, try incorporating some of the following ideas into your classroom.